hi !!!!!!!!! ¬ ¬
!!!!.
What do you think?, Guess what book I'm reading?. Mada
Nothing more and less than the 3 Musketeers of Alexander Dumas !!!!!,.
is great, you should read it, I suppose you have heard of the cartoon "The Musketeers" no?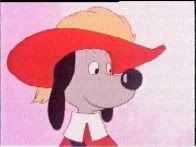 For something similar.
was also doing my anthology, which incidentally is a selection of many works, or things and in this case will be the litaratura.

going to be of the Cid, Don Quijote de la Mancha, and lyric poetry Nahuatl, well that's just the first part!, And my goal is to make the best.

not know me I had to up at 6:00 am one day for a problem we had, no man, I had enough trouble, this time the printer did not work, and I had to use another, but had no ink UUUUUUuuuuuuuuuuuuuuu.

BUT WILL BE THE BEST OF ANTHOLOGIES WITH EVERYTHING AND EVERYTHING!.


until next!